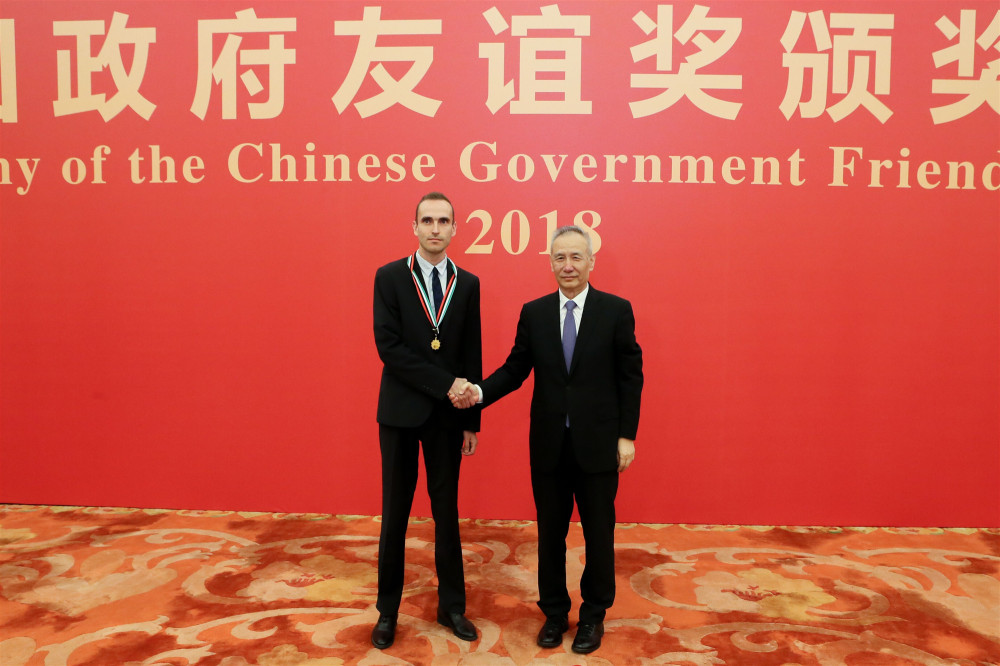 Russian chemist Konstantin Chingin's contribution to Sino-Russian academic cooperation in his chosen research field, mass spectrometry, was recognized on Sept 29 when he received the Chinese government's Friendship Award.
Chingin, 34, works at the mass spectrometry laboratory at East China University of Technology in Nanchang, Jiangxi province, which he said is the only one in the country specializing in such research.
"Basically, our work aims to provide molecular information of samples we analyze," he said, adding that it can be used in the field of cancer treatment, such as lung cancer and breast cancer.
For example, he said, when doctors operate in surgery, they want to cut the tumor out precisely and completely, not just depend on their own experience.
"We can help them determine the tumor margins during the surgery so that they can know whether to continue cutting or not," he said. "Our basic goal is to transfer tissue samples of every spot where they are cutting to mass spectra during the surgery. Time is valuable, so the result would come out within a minute."
The research has not been put into surgical use yet, but both countries view it as promising.
A Russian branch of the mass spectrometry research center was set up in Moscow in May last year by East China University of Technology and the Russian Health Ministry's Maternal and Perinatal Research Center.
In August last year, the project was listed in China's Program of Introducing Talents of Discipline to Universities, also known as Plan 111.
The plan, launched by the Ministry of Education and the State Administration of Foreign Experts Affairs, aims to bring foreign talent to China to upgrade the country's research and innovation capabilities. Projects are funded for five years at a time and receive grants of at least 1.8 million yuan ($260,000) a year, according to the administration.
Chingin, an amateur player of Gomoku, a board game that originated in China, first visited the country in 2012 to attend a contest in Beijing. The next year, he decided to work in China at the invitation of Chen Huanwen, the team leader of the mass spectrometry lab, whom he studied with at Swiss Federal Institute of Technology Zurich.
"I'd been studying in European countries for so many years, and this time I wanted to experience a different environment in Asia," Chingin said.
For example, he said, he can appreciate bamboos unique to China.
The research environment here is also "very friendly", he said.
"In China, the political system is more centralized and research support can be accessible to everybody, while in Europe it's more a kind of private thing. They don't have that large scale, while in China, the endeavors are big. The government will try its best to fulfill research demands," he said.
"In China, mass spectrometry science is at a nascent stage, and there are no company leaders in this field. So bringing in the technology is not enough, we also need to train people and attract more foreign experts."
In the future, Chingin plans to get involved in a traditional Chinese medicine research program using mass spectrometry technology.
"Though TCM is powerful, it doesn't have much solid scientific basis," he said. "We need to prove it and make people believe in it. We can analyze the chemical elements in it and help better understand the function on a molecular level.
"We've already had a TCM center established in Jiangxi and, next step, we plan to produce more fruitful results in the field."
Like

Share